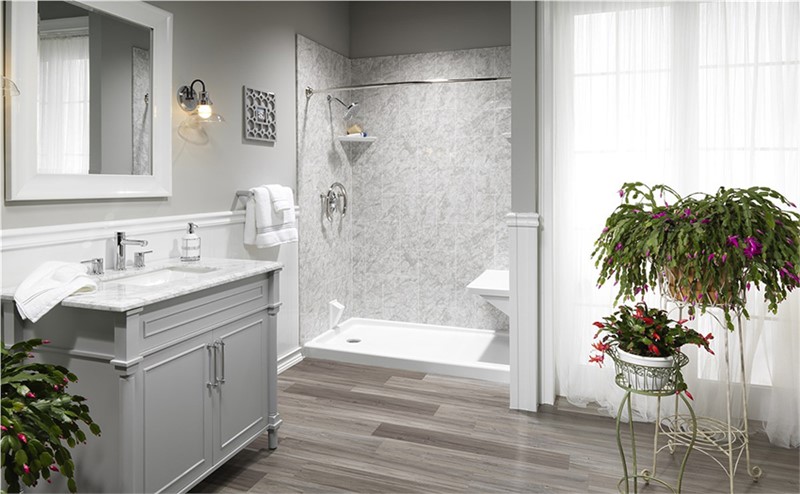 An elegant bathroom is a timeless space that stays attractive through the decades of trends and popular color combinations that have come and gone. It's a space that provides appeal and helps maintain your home's property value no matter what's in style from year-to-year.
At BCI Acrylic, we understand that homeowners are always looking for ways to beautify their spaces for the now, while also preparing their home for potential resale in the future. That's why we offer a selection of bath products protected by lifetime warranties and sophisticated design options that always look good.
Creating an Elegant Bath Enclosure
Our company offers bath and shower enclosures that are fully customizable from the shape of the shower base to the finish on the hardware. With this kind of creative control your customers are able to design elegant spaces that perfectly fit any bathroom. In fact, here are some of the options you might want to consider for a sophisticated and appealing bath enclosure:
Bathtub or Shower Style
The design process starts with selecting the style of enclosure you prefer. With our custom-manufacturing processes, we're able to provide many options, including:
Walk-In Showers
Shower/Tub Combos
Neo-Angle Showers
Separate Shower and Baths
Walk-In Tubs
You'll be able to pick the layout, design, and color of the tub or shower base. Elegant styles emphasize clean, straight lines and minimal décor. For a space that fulfills those style characteristics, you might want to look at a standard straight walled tub or shower with basic colors like:
White or Gray
Almond, Biscuit, or Sandbar
Make a Careful Choice of Your Wall Pattern
Every bath enclosure features a durable acrylic wall surround to ensure maintenance-free water-resistance. Our acrylic enclosures are available in a variety of patterns and colors. If you are looking for something classic and elegant, you might want to consider a marble-stone inspired pattern, such as:
Breccia: A tan wall pattern made to mimic the irregular, thin lines, and cemented appearance of Breccia marble.
Carrara Marble: Modeled after the porous Italian marble of the same name with a white background and thin, gray veining throughout.
Travertine: A pattern inspired by the limestone with a layered, concentric appearance in shades of tan.
| | | |
| --- | --- | --- |
| Breccia | Carrara Marble | Travertine |
Choosing Accessory Colors
You'll also want to pick out complementary shades and tones for accessory items used in an elegant bath enclosure. This includes the shower head, faucet, handles, and curtain rod or door frame. If you are going with a marble wall pattern, we might suggest the following finishes on your fixtures:
Finishing Touches to Your Bathroom
The last part of designing your bathroom is selecting any accessories and design touches. BCI Acrylic offers a range of accessories for the bath enclosure. You might want to pick one or two to improve functionality in this area:
Grab Bars
Shower Footrests
Attached Shower Bench Seats
Shelves
Caddies for Storage
Soap Dishes
You can also add finishing touches to the rest of the bathroom to create a unified appearance. Consider giving the walls a fresh coat of paint. Install a matching towel bar and mirror. Or, pick up a few pieces of understated wall art to enhance the room.
With a little help from BCI Acrylic, you can have a truly elegant bathroom enclosure that provides a lifetime of use. Give us a call to get set up with a free consultation from a local dealer in your area. Or fill out our online form to ask about a complimentary cost estimate on any of our bathroom remodeling services.
---
Comments
No one has commented yet. Be the first to post one!