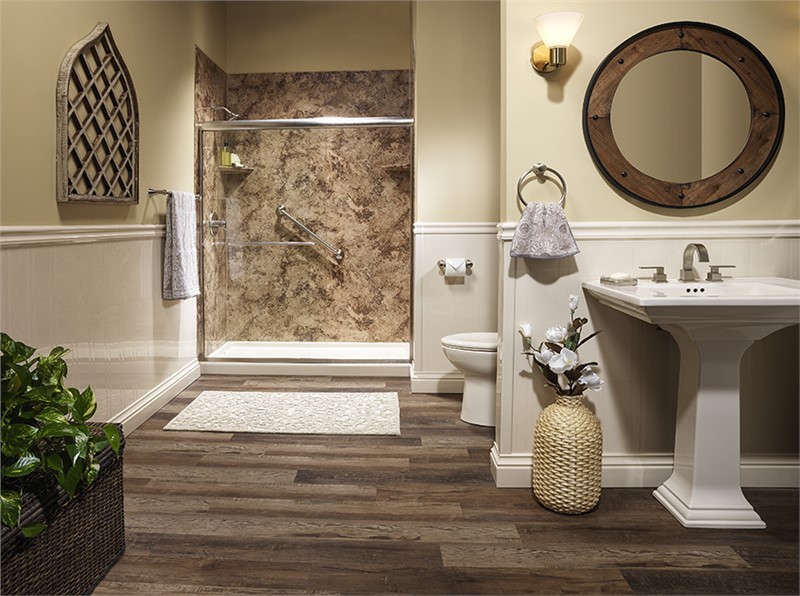 Mother Nature has created many grand and wonderful designs from the high desert to the deepest green valleys. If you are thinking about remodeling your bathroom, there is no greater artist to be inspired by than nature.
At BCI Acrylic, we offer custom bathroom enclosures in various colors and styles. Several of our options are also drawn from the colors and patterns found in different climates. When you are ready to remodel your bath, you can easily find the designs needed for a natural space with us.
Picking Your Theme
The Earth has a diverse array of climates, plants, and animals. You can draw from any and all of them to create your nature inspired bathroom. However, you might find it easier to stick with just one type of climate or tightly focused theme when remodeling. Here are some wonderful ideas to consider:
The stark stone walls and red ochres of the Grand Canyon.
A beautiful rainforest bath in soothing shades of green.
The sandy tones and colors of a steamy Moroccan bath.
A bright and sunny beachside escape.
A dark and stormy cliffside hideaway.
A deep wooded glen with brown and green accents.
Customizing the Bath Enclosure
Once you've settled on a theme for your bathroom remodel, you can begin picking out the different features for the enclosure. We offer custom-made bath and shower enclosures, so you can pick out the colors, styles, and patterns for almost every element of your bath.
Wall Surrounds
The wall surround will have a big influence on your bathroom's décor as it takes up a large part of the bath enclosure. The color and pattern you select will strongly influence the rest of your design. We have many design choices that feature patterns found in nature, including:
Madeira Granite
Breccia
River Rock
Madeira
Granite

Breccia

River
Rock
You can also pick a bathtub or shower base in a matching shade to create a cohesive appearance in the enclosure. We have options in white, gray, biscuit, sandbar, or almond.
Accessories & Fixtures
It is also a good idea to match your fixtures and any accessories to the theme you've chosen. For instance, a polished brass finish on the fixtures pairs well with a sandbar bathtub and Breccia marble wall surround for a high desert theme. Or, you can use faucets and shower heads made with oil rubbed bronze in a woodsy themed bathroom for its dark, elegant appearance.
Renovating the Rest of the Bathroom
Of course, it's not a nature-inspired bathroom if you just remodel the bath enclosure. You'll also want to pull your theme into the rest of the space. The easiest way to do this is by repainting the walls in an appropriate color. The choices are obvious:
Blues work for skies and water
Greens hint at tropical plants and temperate woodlands
Browns remind of tree bark and rocky landscapes
Gray works for stormy skies and cliffs
Tan shades work for sand dunes and deserts
You can also incorporate decorative accents and finishing touches to further complete the theme. That desert inspired Moroccan bathroom would look great with an accent strip of Zellij tiles on the walls. Or, you could get a woven straw mat for the bathroom floor. Rustic wood counters and accents fill out a woodsy bathroom. You can even stick a piece of driftwood on the wall in a seaside inspired space. Feel free to be as creative as you like with these finishing touches to complete your natural bathroom remodel.
When you are ready to get started with updating the enclosure in your bathroom, reach out to BCI Acrylic. We can provide a complimentary consultation and cost estimate for the remodel. Just give us a call or fill out our online form to speak with a representative today.
---
Comments
No one has commented yet. Be the first to post one!