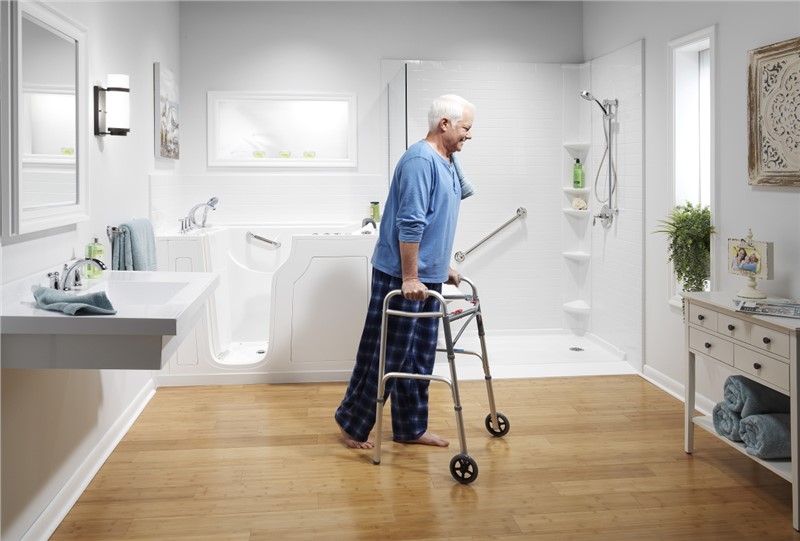 Bathroom renovations can be as minor as upgrading your fixtures to larger remodeling jobs that require new tubs, toilets, and storage space. When it comes to upgrading or replacing your tub, you have a few different-sized options to choose from. One of the most popular and versatile options is a walk-in bathtub. This type of bathtub not only gives you an upgraded look in your bathroom, but it also provides safety and comfort as well.
When it comes to a walk-in tub installation, it is best to leave this install to the professionals. BCI Acrylic, a professional bathroom renovation contractor, has the team and the experience to get your walk-in tub picked out and installed professionally. To give you a better idea of how you can benefit from a walk-in tub, let's take a look at the different types of walk-in tubs and why walk-in tubs are so unique.
Accessibility
One of the biggest reasons that many people switch from a standard tub to a walk-in tub is for the ease of accessibility. For those who are younger or have limited mobility, stepping over a tub wall into a slippery porcelain tub can present a safety hazard. A walk-in tub will allow you to use a low-entry threshold and a convenient hinged-door for easy access. It also features a comfortable safety chair at a customized level, no-slip flooring, and easy-to-reach controls, shelving, and other features for safer bathing.
Safety
High-quality materials and ADA-approved safety features are our top priorities when it comes to accessible tub options at BCI Acrylic. Switching to a walk-in tub can help you get more safety out of your tub for everyone in your household, and especially for the elderly, handicapped, and anyone else that's living with mobility issues that affect their independence in the bathroom.
You can add many different safety features into your tub to ensure you and any guests are as safe and secure as possible while bathing. This can include safety rails, chairs, benches, and non-slip floor surfaces.
Durability
Durability is key when it comes to bathroom materials as they see daily abuse for years. BCI Acrylic uses only the highest quality acrylic materials and premium products to ensure that your new walk-in tub lasts a lifetime. Choose from a wide variety of reputable manufacturers to fit your specific budget without sacrificing quality.
Comfort
While soaking in a large porcelain tub may seem like the most comfortable way to enjoy a bath, laying down in a tub may not be feasible for everyone. With a walk-in tub, you can sit or stand to allow for total comfort, no matter your mobility limits. You can even get custom shower heads to allow for complete coverage where you need it.
Types Of Walk-In Tubs
There are many types of walk-in tubs to choose from. Take a look at the following models we offer at BCI Acrylic, and consider how each of them might fit into your home and lifestyle:
Soaker Tub: If you are wanting a walk-in tub that you can sit in and soak your body, a walk-in soaker tub can be the solution. These tubs are built to allow for you to walk into a standard soaker tub so that you can still enjoy the relaxation of a full-body soak without having to risk stepping over a tub wall.
Wheelchair Accessible: For those who are in wheelchairs, there are walk-in tubs that allow for wheelchairs to be rolled right into them. This is a perfect upgrade for someone who is looking to make their home more accessible and wheelchair-friendly.
Bariatric Walk-in Tubs: If you are needing a walk-in tub that is going to support weights of over 300lbs, a bariatric walk-in tub may be a better choice. These tubs are built to support and accommodate people of any size.
Professional Walk-in Tub Installers
Since 1999, BCI Acrylic has been providing its customers with superior products and industry-leading service. Specializing in acrylic bath renovation products and accessories, you can trust BCI to get just about any type of shower or tub installed into your bathroom.
By offering a range of customer-first warranties on all installations and products, BCI Acrylic stands behind our professionally trained team and high-quality services. To get a free, in-home quote on your walk-in tub installation, give us a call for more information or fill out our easy online form.
---
Comments
No one has commented yet. Be the first to post one!