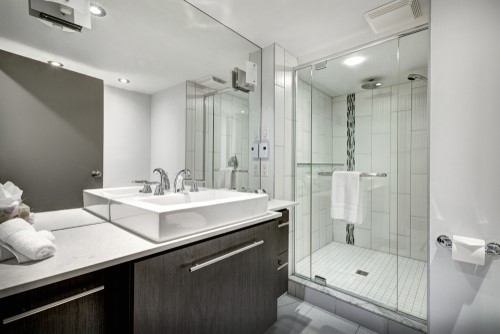 No matter the time of year, people love to travel. Whether it's a road trip across the country or a flight abroad, chances are that if you're on vacation, you're checking into a hotel room at the end of the day.
Most people can agree that there's a sense of relief one feels when stepping into a beautiful hotel room after making the trip to get there. This feeling is anything but coincidental, as hotel rooms are strategically designed to make guests feel relaxed, happy, and at ease during their stays. The bathroom is no exception, either—and the expansive countertops, open layout, and pleasing color schemes are carefully chosen to have the same relaxing effect on hotel guests.
At BCI Acrylic, we've performed countless of bathroom renovations inspired by hotel bathrooms. If you're into the idea of feeling like you're on vacation right in your home, a hotel-inspired bathroom-remodeling project could be just the thing you need to refresh your bathroom space and add value to your home. In this article, we're going over some simple yet effective bathroom remodeling tips from hotel bathrooms to consider for your next bathroom renovation.
Bringing the Hotel to Your Bathroom
One thing that is universal when it comes to hotel bathrooms is that they are meticulously planned and designed. Every aspect of the bathroom is carefully thought of and approved by expert hotel architects and interior designers, and planned to deliver a certain functionality or appearance that fits within the hotel brand.
Whether you're inspired by the clean, sleek lines of a standard three-star hotel bathroom, or the luxurious features of an upscale, four-star resort, there are always plenty of things to admire about guest bathrooms in hotel rooms. Here are some simple tips to get you thinking about your next renovation, taken straight from some of the world's best hotel designs:
Keep it Monochromatic: One-color design schemes give the illusion of maximized space, cleanliness, and sophistication. Some popular colors to concentrate on are earth tones, which are very popular in most hotel bathrooms.
Some hotel properties go with bolder tones in red, blue, or green. These colors can be either bright or understated making them versatile for any design choice. Some people even choose to use multiple shades of the same color. Be sure to break up the color with accents like a ribbed glass shower screen to make sure the color doesn't overwhelm the space.
Multi-Color Schemes: Beyond monochromatic color schemes, the more common design trend in hotels is using a blend of colors and patterns to design the bathroom. For example, you can choose two colors that stand out on their own but that also work together and blend together beautifully. Think bright white with gold, silver, or beige touches, rose gold and brown, or black and wood tones for a modern touch.
Wet Rooms are Trending: In smaller bathrooms, one of the most challenging decisions is to decide between a tub or shower—or to consider a combined bath and shower enclosure to save space. If you have space, however, and want to create an ambiance full of luxury, then consider adding a wet room to elegantly separate both bathing options from the rest of the bathroom.
Accessorize Painted Walls: Painting is a classic approach used to quickly address bare bathroom walls. In most hotels and resorts, paint is used sparingly, and only to accentuate beautiful tiles and wall or shower surrounds. Just remember that the bolder your color choices, the more you'll need to balance it with neutral-colored fixtures and appliances.
Mix and Match: Some hotel bathrooms combine different tile patterns in the same room. Consider a hexagonal wall pattern against a checkered floor pattern for a bathroom that makes a statement.
Subway Tiles: For those on a limited budget, consider economically priced subway tiles for bathroom walls and flooring. These trending tile shapes are elongated and strikingly different—yet modern and sophisticated at the same time.
Upscale Additions: Most hotels and resorts aim for a look that's elegant and sophisticated at once. To that end, consider pairing marble with brass for a timelessly classic combination. For a modern twist, consider darker marble with chrome or nickel.
Bathroom Design Option with BCI Acrylic
BCI Acrylic is proud to be a provider of premium-quality bathroom remodeling products from top brands like Luxury Bath, Bath Planet, BCI Acrylic, and more—at the most affordable prices on the market. As one of the most trusted names in home remodeling, we make sure that our products and the companies that install them are of the highest quality in the nation.
Our goal is to help our customers achieve truly beautiful, value-enhancing remodeling results on small bathroom projects to major overhauls—and everything in between.
We proudly offer the following options for our customers:
Replacement Tubs
Replacement Showers
Walk-In Bathtubs
Roll-In Showers
Shower Bases
Shower Surrounds
Tub Liners
… and more!
Ready to get explore your bathroom design options and high-quality acrylic products from BCI Acrylic? Then give us a call to speak with one of our agents about our inventory of exceptional bathroom remodeling products or to find a dealer near you. Or, if you're interested in learning more about the benefits of becoming a dealer of BCI Acrylic products, fill out our online form to have a representative contact you.
---
Comments